Click name for contact info
Scott is a Licensed Psychologist who has experience with individuals from childhood through the older adult years. He works with children on academic problems, divorce issues, opposition, ADHD, and trauma. Scott also treats adults, believing that everyone could use a sounding board during times when things feel out of balance. He works to resource his clients with new perspectives, effective tools, and helpful coping skills to accomplish their goals in the face of anxiety, depression, bipolar disorder, personality disorders, or relationship problems.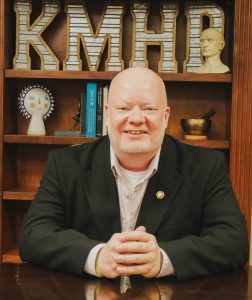 Click name for contact info
Donnie has been a psychotherapist for over 10 years and is a clinical psychologist specializing in treating mental health conditions using practical, skills-based methodology. He works with adults who experience problems with mood dysfunction, anger management, trauma, impulse control, addiction, and personality disorders. Donnie teaches Dialectical Behavior Therapy (DBT) skills in individual clinical sessions, and in adult skills groups. Donnie is a Marine Corps and Army veteran and is sought-out throughout Wichita by other military veterans, law enforcement, and first responders. If you are ready for change in your life, call and schedule an appointment, today!
Kaitlyn Jacobs, LMFT
Kaitlyn has a master's degree in Marriage and Family Therapy and an undergraduate degree in Counseling with an emphasis in addiction studies. She has been trained to work with individuals, couples, and families. Kaitlyn has worked with a range of clients from children to adults. She works with people experiencing anxiety, depression, trauma, and grief. Kaitlyn states, "I view treatment through an attachment lens and believe in making people feel at ease so they can comfortably explore and expand on challenging areas of life." Kaitlyn invites you to contact her at KMHP.
Dakota Driskell, LPC
Dakota wants to welcome all clients to a safe, empathetic, and non-judgmental setting. He is passionate about helping his clients reach their treatment goals by developing a thorough understanding of their personal strengths and leveraging them into actionable plans. Dakota accepts clients of all ages and treats a wide array of problems such as depression, anxiety, trauma, relationship difficulties, life-transitions, and other troubles that interfere with the quality of life. Call and start down the path to mental wellness!
Nathen Hacker, LPC-T
Nathen has worked with children and adults and has specialized in working with teenagers in the foster care system experiencing problems with ADHD, anxiety, depression, mood disorders, and trauma. He is trained in Mindfulness, Cognitive Behavioral Therapy (CBT), and Existential Therapy. Nathan states, "I am here to help you navigate through your life-story to get you where you want to be." He invites you to call or email to begin your journey towards recovery.
Mariah Berumen, M. A.
Mariah is a doctoral student in Psychology nearing the completion of her Ph.D. studies. She offers services to individuals of all ages, couples, and families. Her services include treating mental health issues ranging from depression, anxiety, relationship issues, to severe and chronic forms of mental illness. She states, "Everyone deals with life's issues as best as they can with the skills they have at the time." Using a cognitive-behavioral approach, she combines structure with flexibility to help clients identify unhelpful patterns & create meaningful change using new skills. Mariah also provides psychological evaluations & will carefully explore explanations for your concerns. She understands that psychological assessments can create a mix of feelings & will help you understand and process the results.